Survey: The Authors Guild is collecting data on how writers are faring under the pandemic and whether they have been able to obtain any federal assistance. The survey results will help the NWU and other writers' organizations with our lobbying to obtain additional programs and new guidelines from the federal government and states. We would greatly appreciate your help, by participating in this survey.https://www.surveymonkey.com/r/PYT5ZB6
In collaboration with the Thomson Foundation, the International Federation of Journalists (of which the NWU is a member) has created a free online safety course for journalists covering the COVID-19 pandemic. Click here to enroll.
Coronavirus Relief for Writers: In early April, the Freelance Solidarity Project and National Writers Union hosted a webinar for freelancers and digital media workers on available coronavirus aid resources. Click here to view a recording of that presentation. Also, NWU member Louis McGill created a list of resources that are posted on the NWU website – https://nwu.org/coronavirus-relief-for-writers/
OCTOBER 2021

October 14, 21, 28 – VIRTUAL OPEN MIC THURSDAYS
EVERY THURSDAY at 6:30 PM – 8 PM ET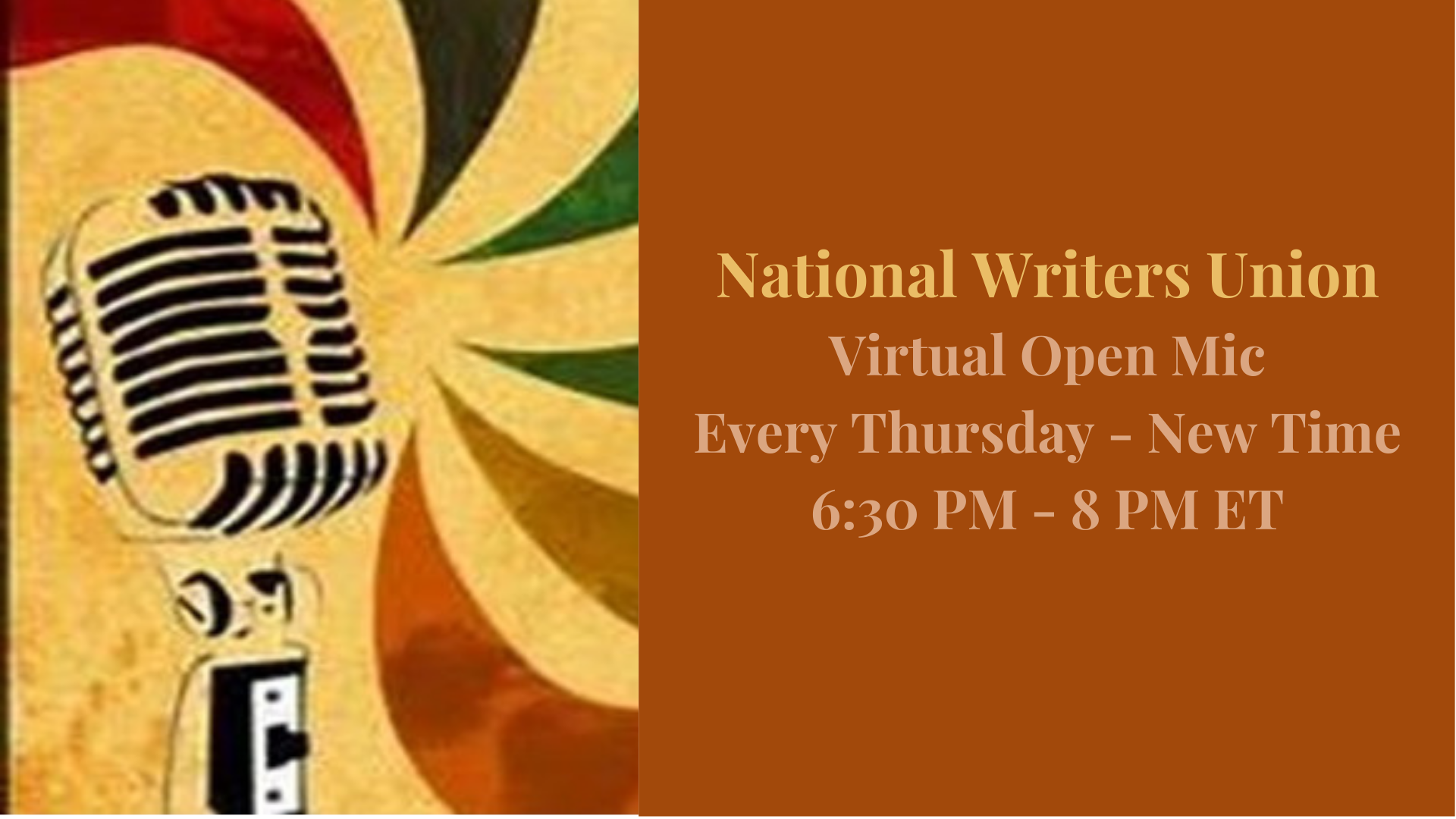 The National Writers Union has resumed its open mic series that was held monthly at the NYPL Muhlenberg branch for over a decade. As always, writers from all genres are welcome. You can join with or without video and read for up to seven minutes. No advance registration needed. This virtual stage allows for more interaction, so you can add video or music to your reading as well as share your Amazon, website, and social media links. As we've done at the library event, we'll dedicate some time for announcements about upcoming book launches or other events of interest to writers.
Just click on this link from any computer or mobile device — https://us02web.zoom.us/j/4409503412. Don't have one of those handy? Then use your phone and dial (646) 558-8656 and enter Meeting ID: 440 950 3412. As a security measure, you will need to log into Zoom first to join us. Zoom accounts for meeting participants are free. You can sign up at https://zoom.us/signup. If you have any problems joining, call/text NWU Open Mic organizer Alex Faiz at (203) 947-2497.  Interested in being our guest host? Let us know.
Looking forward to welcoming you this Thursday from 6:30 pm to 8 pm. This will be our regular time slot. Come even to just listen to others' inspired words.
We're very eager to help our members and fellow writers' organizations whenever we can. Do you have an upcoming virtual event for or about writers? Reach out to the National Writers Union to see if we can collaborate with you.
Featured NWU Member – Peter Benjaminson
Peter Benjaminson was born in Washington, D.C., and was a reporter and City-County Bureau Chief for the Detroit Free Press from 1970-76. While at the Free Press, he wrote the book INVESTIGATIVE REPORTING, with Dave Anderson (Indiana University Press, 1976 and Iowa State University Press, 1990), the first how-to book in that field. It was in print for 20 years. In 1979 he wrote THE STORY OF MOTOWN (New York: Grove Press), the first U.S. book ever written about the Motown Record Company. 
He now lives in New York City. Click here to learn about his many books. Click here to contact Peter.
Would you like to be our next featured writer? New York Chapter members of the NWU can have their own Author's Page on the National Writers Union's main website. Join Peter! Contact us to learn more.

October 21 – 23: NWU Virtual Delegate Assembly
National Writers Union's 2021 (Virtual) Delegate Assembly.
October 21-23. All members are welcome to attend this national event. #WritingOurFuture. Learn more here — October is Delegate Assembly.

MORE ANNOUNCEMENTS

Are You Owed Money? The #DisneyMustPay Task Force expanded its focus to include all creators of comics and graphic novelists, not solely writers. Illustrators, letterers, and other artists encouraged to report any contractual grievance. Learn more at https://www.writersmustbepaid.org/.

You're Invited to Join the Members of NWU FB Group: We have a new perk for NWU dues-paying members. The NWU launched a private Facebook group. It's a place where we can discuss everything from union business to the Presidential elections. Join us!  https://www.facebook.com/groups/923911388077352/about/